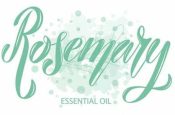 Item: EO-ROM30
Primary Benefits
Stimulates Hair Growth
May Help Relieve Pain
Repels Certain Bugs
May ease Stress
May Reduce Joint Inflammation
Aromatic Description
Camphoraceous, Herbaceous

Collection Method
Steam distillation
Plant Part 
Flower, Leaf
Main Constituents 
1, 8-Cineole, α-pinene, camphor
Country of Origin
Description
Rosemary is one of the rare herbs that is obtained from the flowering tops of the Rosemary (RosmarinusOfficinalis) herb. It is mainly known for its cleansing properties and it is also used in cosmetic products due to its beautifying properties. This plant is mainly found in the Mediterranean region and can be used as a pain reliever due to its anti-inflammatory properties. It also contains powerful antioxidants that make it an ideal ingredient for skincare and hair growth purposes. Its color ranges from pale yellow to clear liquid form.
Uses
The refreshing scent of rosemary oil makes it ideal for a room freshner.
It boosts blood circulation in your hair roots and promotes healthy hair growth. 
It can relieve the stress and pain from your muscles. It proves to be an excellent massage oil due to its analgesic properties.
It is rich in vitamins A and C that are one of the key ingredients of skincare and hair care products. 
It can relieve the stress and pain from your muscles.
You can inhale Rosemary essential oil to get instant relief from nasal and throat congestion.
The oil reduces eye puffiness and gives glowing and healthy skin. 
It combats skin issues like wrinkles, fine lines, etc. that are associated with the aging of the skin.
It may relieve from itchy or dry scalp, massage a diluted form of rosemary oil on scalp. It also prevents premature greying of your hair to some extent.
The oil protects your skin from sun damage. You can use it to obtain nourished and glowing skin free from toxins and dirt as it has a detoxifying effect on our skin. 
Diffusion: Use 3-4 drops with 100 ml water in the diffuser &  gradually increase it.
Topical Use: Apply 1-2 drops to desired area. Dilute with a carrier oil to minimize any skin sensitivity.
Cautions
Possible skin sensitivity, always do a patch test before regular use. Keep out of reach of children and pets. Don't use during pregnancy and breastfeeding. Avoid contact with eyes, inner ears, and sensitive areas. Keep away from fire. For External Use only.