" D E E P - R E L I E F "
Our Signature : Pain Relief Blend
For Headache | Tension | Stress | Back Pain | PMS etc

Item: PO1X30
Size: 30 ml
M.R.P: Rs.950/-
Primary Benefits
Universal Pain Relief Oil
Main Constituents
Menthol
Wintergreen Essential oil
Eucalyptus Essential Oil
Camphor
Country of Origin
India
" D E E P - R E L I E F "
Our Signature : Pain Relief Blend
For Back Pain | Lower Back Pain | Headache | Tension | Stress| PMS etc

Bhoomi Secret's has added great potency to the effectiveness of its pain relief oil formulation. Apart from headaches, cold this formulation stands highly effective in relieving Back Pain, Lower Back Pain, Knee pain, Joint pain, Spondylitis, Sprains, Muscle cramps, Menstrual Pain(PMS).
Labeled as "DEEP RELIEF", it's Non-sticky, Non-Greasy and Non-oily. The most promising results are seen in our clinical study. Only a few drops on the affected area, applied evenly, gives excellent results.
Uses
Knee pain
Joint pain
Arthritis
Back Pain
Spondylitis
Chikungunya 
Sprains
Muscle cramps
Menstrual cramps
(PMS)
Relieves headaches, tension, stress, colds, sinusitis. [Quick relief not available for Migraine, need to use for 7-10 days]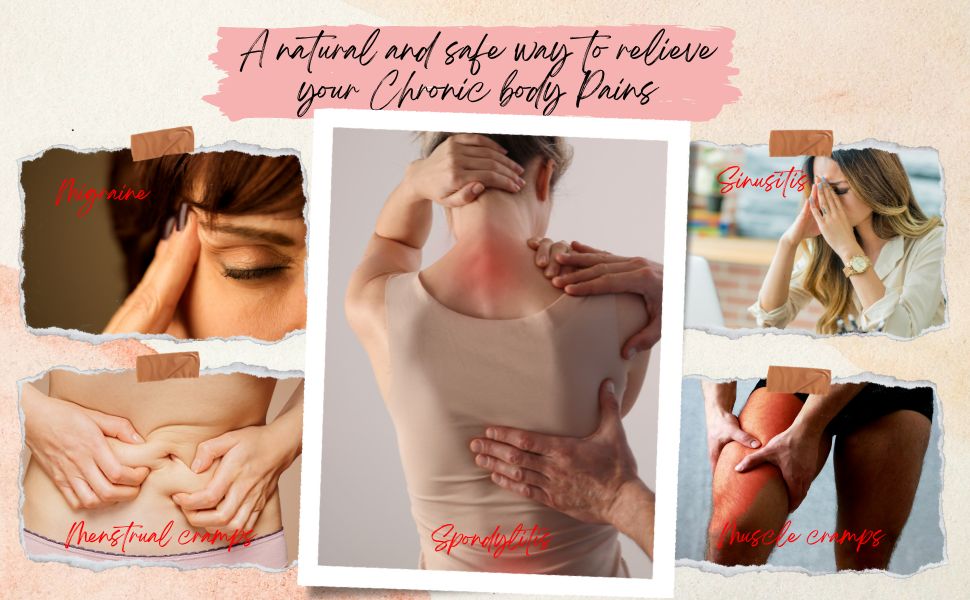 Directions for Use
Apply a few drops on the affected pain area & leave it to dry & Relax.

For Headache, Tension, Stress & Cold:

Apply on forehead pressure points along the front of the forehead, the temples, the back of the ears, and the back of the neck,  and inhale the aroma frequently. The results are felt as fast in 15-30 min, and the pain alleviates from deep within. [For migraine headache – quick relief is not available, need to use 7-10 days].

Chronic pain:

 (of the lower back, back, knee, joint pains and other areas) Use it 3-times a day, for an ultra-deep lasting effect. Continue to use it for 2-3 months for prolonged benefits.

PMS / Period Pain:

 Chemicals like prostaglandins cause cramps & throbbing pains in the lower belly & lower back pain. Our oil blend is very effective in relieving these PMS symptoms, pms headaches and cramps.
In a few cases of hyper-effect, the pain may increase & then reduce after 2-3 days. It is not a cause of major concern.
Easy to apply while on travel, as it evaporates quickly (in 05-15s) without leaving any residue, or staining clothes. And this makes our deep relief oil popular among working professionals.
No Massaging. 

No Rubbing. 

Just Apply and leave it to Dry for few seconds.
Keep out of reach of children and pets.
Possible skin sensitivity, always do a patch test before regular use.

Avoid contact with eyes, inner ears, and other sensitive areas.

Keep away from fire. For External Use only.