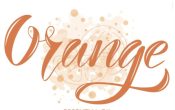 Item: EO-ORA30
Size: 30 ml
Price: Rs.750/-
Primary Benefits
Powerful cleanser and purifying agent
In aromatherapy it appears to reduce symptoms of anxiety and depression
Used in Pain relief
Have carminative property, means being an agent that may help in the removal of excess gas from the intestines
Might Treat Spasms from continuous coughing, muscle cramps, and diarrhea
It may have mild aphrodisiac properties
Aromatic Description
Sweet, fresh, citrus

Collection Method
Cold Pressed
Plant Part 
Orange rinds (peel)
Main Constituents 
Limonene

Country of Origin
Description
Orange essential oil is Cold pressed from the peel, known for its sweet, fresh, and tangy aroma that is pleasant and loved by everyone. It is also useful for adding citrusy fragrance to cosmetic and skincare applications. Orange Essential oil exhibits antimicrobial properties and is packed with powerful antioxidants that protect your skin from external conditions and pollutants. It is a natural antidepressant and is well-known for its anti-inflammatory properties. High in limonene, Orange possesses stimulating and purifying qualities, making it ideal to support healthy immune system function when used internally. It can be used as a daily surface cleaner throughout the home. Wild Orange enhances any essential oil blend with a fresh, sweet, refreshing aroma.
Uses
The refreshing, sweet, and tangy scent of Orange Essential Oil adds up to a unique fragrance when used in making natural perfumes. 
It is known for its surface cleansing properties as well.
It promotes speedy muscle recovery when used for massage purposes. 
It removes toxins, oil, and dirt from your skin to make it nice, soft, and supple. 
The soothing, sweet, and tangy fragrance of orange essential oil will elevate your mood by reducing stress. It helps relax your mind and calm your senses after a busy day.
People who suffer from anxiety or depression can inhale it directly or via diffusing. 
It also promotes clarity of thoughts and boosts the overall well-being of a person.
The antidepressant properties of orange oil help in reducing stress and anxiety.
It's anti-inflammatory properties is used for healing the pain or inflammation associated with wounds and cuts. 
The antimicrobial properties and antioxidants of orange peel oil make it perfect for the treatment of dry or acne-prone skin.
Skin infections can be treated by using Sweet Orange Essential Oil due to their antiseptic and antibacterial properties. 
The antimicrobial properties and antioxidants of orange peel oil make it perfect for the treatment of dry or acne-prone skin
The amazing scent of Sweet Orange Essential Oil can induce a romantic mood when diffused. 
Diffusion: Use 3-4 drops with 100 ml of water in the diffuser and  gradually increase it.
Topical Use: Apply 1-2 drops to desired area. Dilute with a carrier oil to minimize any skin sensitivity.
Cautions
Possible skin sensitivity, always do a patch test before regular use. Keep out of reach of children and pets. Don't use during pregnancy and breastfeeding. Avoid contact with eyes, inner ears, and sensitive areas. Keep away from fire. For External Use only.